Do you wish there was a way you could earn some extra points at a time that best suits you? Well, Booster Credits are the answer! Booster Credits are temporary items that offer special benefits for a specific amount of time.
When a Booster Credit is activated, a player will become "Positively Charged" and receive double points for a set amount of time! Depending on the type of Booster Credit, you can earn double points for different types of activity. For example, a Physical Deploy Booster Credit will offer double points on all physical munzees that you deploy within the two hour time frame.
The Positively Charged time period offered by the Booster Credit will stack on multi-point days. For example, if you choose to become Positively Charged on a 3x points day, you will earn 6x the normal points for all deploys within the set period of time for the Booster. 
Currently there are several Booster Credit types available, with more types coming in the future! You can read about the different available types and how to earn them below. 
 . 
 . 
Exceptions:
Personal Munzee captures will NOT receive 2x points when a Physical Capture Booster Credit is active. 
Purchasing/Deploying a Bouncing Munzee (Myths, Pouch Creatures, etc) will NOT receive 2x points when a Physical Deploy Booster Credit is active. 

         
How Can You Earn Booster Credits?
You can currently earn one Physical Deploy Booster Credit (activated for 120 minutes) each time you cap and/or deploy 15 Urban Fit Munzees during an MHQ 24-hour day. When activated, the credit will allow players to receive double points on physical deploys of ALL types for the next 2 hours. There is no limit for the amount of Booster Credits a player is able to earn in a day. You can view your credits on your profile.
You can also earn a Physical Deploy Booster Credit by capturing the Hadavale Pouch Creature Munzee! This extremely rare Team Owned Bouncing (TOB) Munzee is tough to find, but when you capture it, you'll be awarded a Booster Credit. 
There is a rare chance that you will earn a Physical Capture Booster Credit (activated for 120 minutes) if you capture a Pimedus Pouch Creature. This Player Owned Bouncer (POB) will operate like a Prize Wheel, offering a variety of different prize options for the capper, including the chance to earn this coveted credit! You can search for Hadavale, Pimedus, and other bouncing munzees at munzee.com/specials.
Additionally, there is a Virtual Deploy Booster that will last for 1 hour (activated for 60 minutes), offering 2x the points on all virtual deploys. The only way you can currently earn this credit is through having purchased a GR8 QR8 special advent calendar-style package.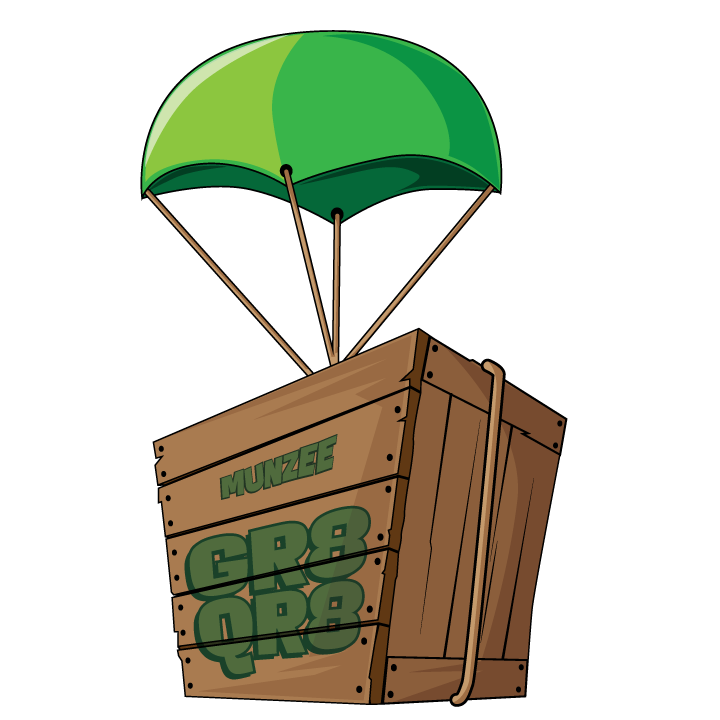 How To Activate A Booster Credit
Using your Booster Credits is simple! We even put together this helpful video on how to activate a Booster Credit:
To activate a Booster Credit, first go to your player profile in the Munzee app. You will find your Booster Credits under the "Inventory" tab. Here you will be able to see the various Booster options as discussed above.
Next, click on the Booster Credit you would like to use. Whenever you're ready, click the "Activate" button to start. Once the credit has been activated, the timer will begin counting down. You'll be able to see the countdown timer in the top right corner of the screen.
To hide the timer, simply click on the icon to go back to the Booster Credit page, and toggle the switch to remove the timer from the map. Keep in mind that you can always show the timer again by going back to the Booster Credits page through the inventory section in the Profile. The page will also show you how many credits you have in stock.