PREVIOUS: Intro to Clan Wars | NEXT: How to Join a Clan
Clan Wars Hub
The Clan Wars Hub can be accessed by tapping on the new orange button on the map, the Clan Wars button in the side menu, or within your profile. If you visit this area while not in a clan, it will give you the options to join or create a clan first. Once in a clan, this area will take you to the new Clan Wars Hub.

Roster Tab
This tab gives you an overview of your clan and the total points that members have earned for the current or recently ended Clan Wars battle. The colored bar displays the goal the clan is aiming to achieve that month, unless they are a Casual Clan. Leaders can also manage the clan from this tab. Find out more by reading our How To Manage Your Clan.
Challenges Tab
This tab gives you an overview of all the challenges required to complete each level of the Clan Wars battle. A timer is displayed to show when the battle will end. Stats are updated approximately every 10 minutes. Towards the end of the battle, a box will appear at the top with a start date and time for the next battle. Tap on that box to review the challenges for the upcoming battle so that you can prepare ahead of time with your clan. For more information, check out How To Complete Challenges.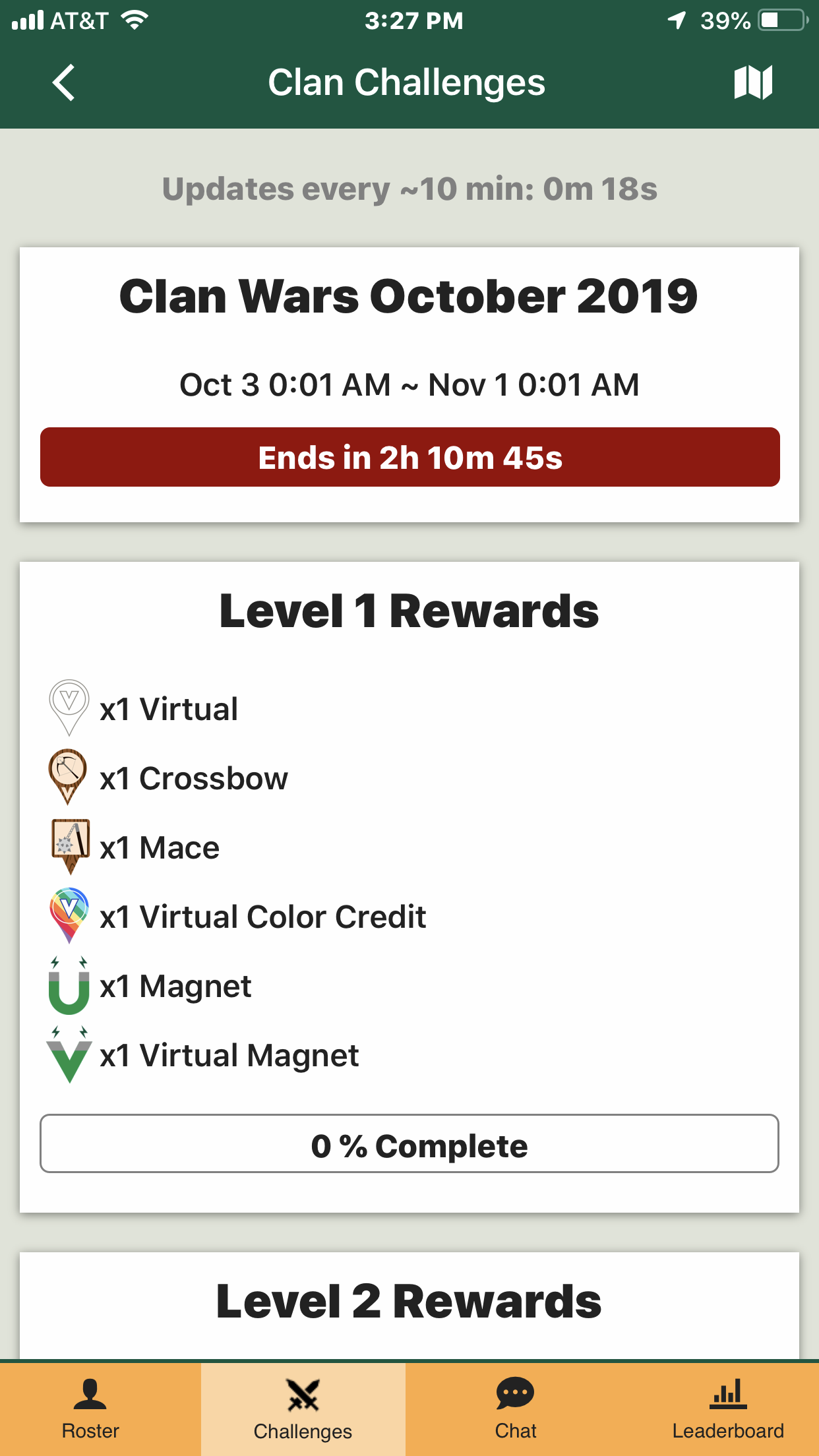 Chat Tab
This tab allows you to communicate with everyone in your clan. Players have the option to toggle these clan chat notifications on and off if they prefer. This feature facilitates clear communication amongst clan members.
Leaderboard Tab
This tab allows you to see how your clan stacks up against the top 100 clans in the world. The clans that reach the highest levels will appear at the top of the leaderboard, even if lower level clans have more total points. Make sure to focus on completing as many individual and group challenges as possible for each level to climb the leaderboard and earn special badges.
PREVIOUS: Intro to Clan Wars | NEXT: How to Join a Clan