PREVIOUS: Clan Wars Hub | NEXT: How to Complete Challenges
Clans are formed with multiple players, with the opportunity available at all times to use the Clan Randomizer button in-app to find a spot in a clan. In order to join a clan prior to the start of the current month's clan battle, you will need to use this button from between 00:01 MHQ time on the 1st of the month and 23:59 on the 2nd of the month. However, any activity a player has done during the battle period will count towards the challenges once a player joins a clan, so any previous efforts will still count for clan mates who join clans after the current month's battle starts at 00:01 MHQ time on the 3rd of the month.
While clans previously required exactly 10 players to earn rewards, players can now compete with fewer players if desired for a maximum of 10 players per clan. Though players who are not currently in a clan can join a clan until the 12th of each month, once a player has joined a clan for the month, they are unable to leave that clan. If a new player joins a clan on the 11th but they have not met the same current level individual requirements as the rest of the clan, then the clan will not be able to level up until the new clan member catches up.
How To Join A Clan
Joining a clan is an easy process, though players should be sure to join a clan with similar clan level goals (for more information, read How to Create a Clan). Simply pull up the Munzee map on your phone and tap on the orange Clan Wars button. This will pull up information regarding the current or upcoming clan battle depending on the time of the month.
Tap on the "Join a Clan" button to browse for clans using a list. Or you can select "Find a Random Clan" to have a random clan chosen for you. These options can be done at any point, regardless of whether or not a clan battle is currently in progress.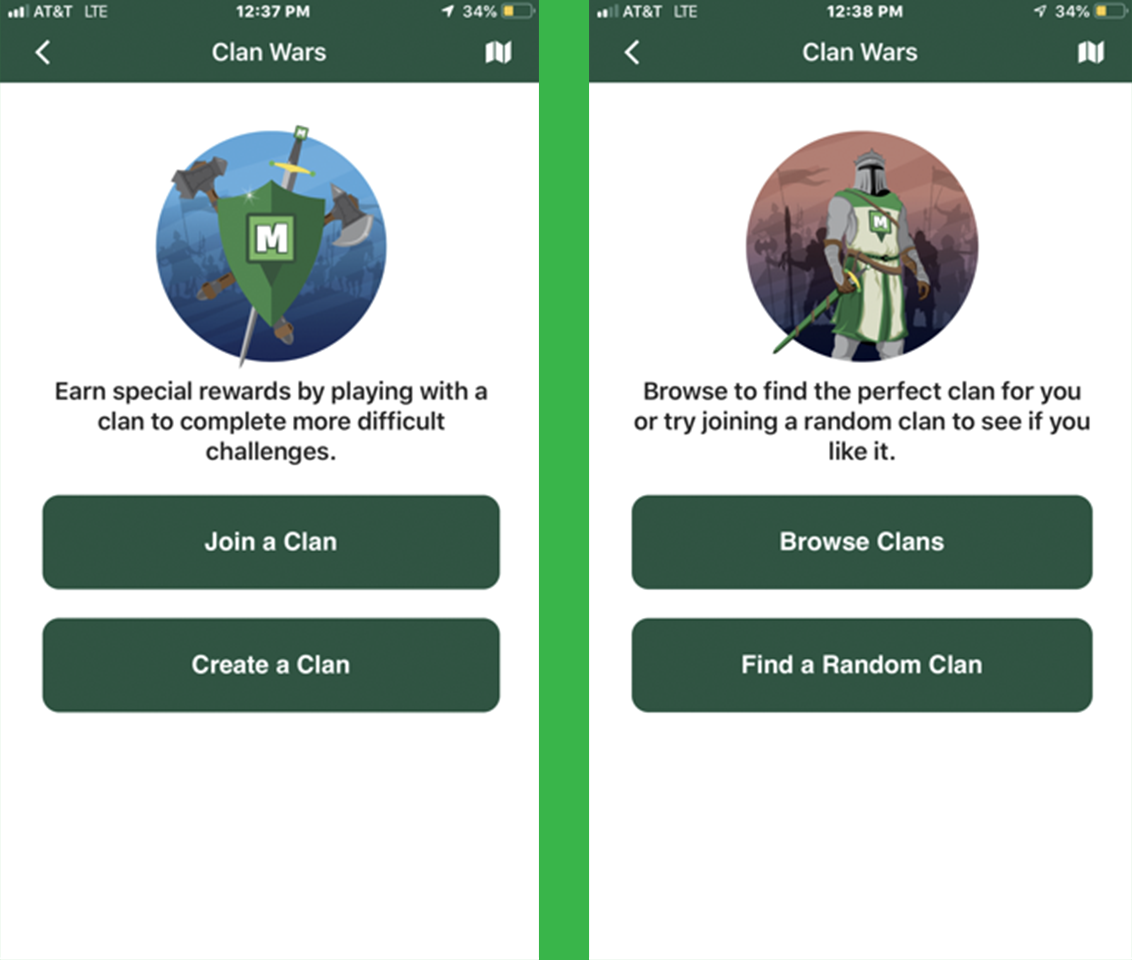 Browsing & Searching Clans
When choosing the option to browse for clans, you'll be able to sort the list of clans by their level goal. This indicates which level the entire clan is aiming to achieve. Casual Clans are less focused on reaching a specific level and more focused on having fun, learning the game together, and playing with friends and family.
If you're new to the game, it would be best to join a Casual Clan or Level 1 clan. Once you're ready for a challenge, you can move up to search for higher level clans. Keep in mind that while Clan Wars is a friendly competition, some of the higher level clans take gameplay very serious, so it's best not to join a higher level clan unless you are confident you can meet your individual contribution requirements.
If you see a clan with a "Join" button, then you may tap it to join immediately. If the clan has a "Request" button instead, then you may only send a request to join, which must be approved by a Clan Leader. You can also join a clan by accepting an invitation, sent by the Clan Leader, to be a part of the clan. Just keep in mind that once you join a clan, you will be locked into that clan until the current Clan Wars battle has ended. So make sure to choose wisely!
Finding A Random Clan
If you don't have a specific clan in mind, you can use the option to "Find a Random Clan." Pressing this button will pull up a clan at random that has vacancies. You can review the clan and request permission to join if the clan is to your liking. If you do not wish to join the clan, you can press the "Randomize Clan" button at the bottom of the page to have another clan pulled up at random.
You can repeat this process as many times as desired until you find a clan that suits your preference. Remember that you will need to have your request to join accepted before officially becoming a member of the clan.
Player Level Restrictions
Players should keep in mind that there are level restrictions for joining clans.
Level 1 Goal = Level 10+ Players only
Level 2 Goal = Level 20+ Players only
Level 3 Goal = Level 30+ Players only
Level 4 Goal = Level 40+ Players only
Level 5 Goal = Level 50+ Players only
This means that players will get an error if they try to join or request to join a clan if they do not meet the level requirement. The only way to get around this is to have a clan leader invite you to a clan. This one scenario would bypass the level restriction.
Additionally, anyone can join Casual Clans, as there is no level restriction for them.
Accepting A Request To Join A Clan
After tapping on any Clan Wars button, a new yellow "You've been invited!" button will appear at the top. Tap on that to see a list of clans that have invited you to join. Tap on the "View" button to preview the clan before deciding to accept or reject the request. Players can join a clan at anytime during the battle, but still can't leave once the battle starts.
Clans no longer need a full 10 members to earn rewards. If you start a clan battle with less than 10 players, remember that new players can be added at any time.
Communicating With Your Clan
The clan chat area allows you to communicate with everyone in your clan. Players have the option to toggle these clan chat notifications on or off if they prefer. This feature facilitates clear communication amongst clan members.
PREVIOUS: Clan Wars Hub | NEXT: How to Complete Challenges