PREVIOUS: How to Purchase an Event Package | NEXT: How To Use Eventzee With Your Munzee Event
Interested in hosting your own Munzee Event? We're happy to help you out! Though the process might seem intimidating if it's your first time, the Munzee Event Team is here to guide you through each step of the process. Please feel free to contact the Munzee Event Team for event related information by emailing events@munzee.com. But first, we kindly ask that you read the information below to see if it answers any of your questions.
After you've created your Munzee Event, and purchased an Event Package, then you should be familiar with all aspects of the Munzee Event Packages. The following information is to help you with your event. Some things on this list may not apply to you and your event but some will. Please read over the areas that pertain to the items on your Munzee invoice.
All the information you need to run your event is listed here. Please pay particular attention to the rules around deploying the Event Account munzees. Failure to adhere to these rules may result in being in breach of the Player Code of Conduct. For more information about Munzee Events, you can check out our Event FAQs.
For reference, every Basic Event Package includes the following:
A temporary account for the event

50 Event Pins (worth 10 Capture points each)

Generic Event Attendee Badge

An Event Leaderboard for the Munzees on the event account

An Event Host badge (up to 4 hosts per event)

An Event Indicator Pin that puts the event on the map and a special icon to cap
Leaderboard
An Event Leaderboard is part of the Munzee Event Package. The leaderboard will show every person who captures an Event Munzee (see above), how many they have capped, and how many total points they have earned. Some hosts use the leaderboard statistics to award prizes after an event competition or game.
Event Indicator
The Event Indicator Pin (see above) puts your event on the Munzee Map. It is part of the basic Munzee Event Package. The QR code for it is attached to the email you will receive with your event account info, and you can capture this munzee within 300 ft (91.44 m) of the coordinates you give for it. When capped, you will receive the Event Indicator Special Icon. Please share this code with your guests. You now have the ability to update the location of this pin if circumstances require it at the time of your event. Please only move the pin if absolutely necessary. Acceptable reasons might include weather, park closure, Event Location unavailable, etc. Excessive movement of this pin or violation of the intent of movement could result in consequences as explained in the Player Code of Conduct
Go Live Time
All Event Munzees will be hidden from the map until your designated "go live time." This allows you to take your time deploying any virtuals and then placing your physical munzees prior to your event without attendees knowing where they will be. Please note that all times should be in accordance with the MHQ (CDT) timezone.
You set this go live time when you created your event, but you are able to choose the time you would like your munzees to be unhidden on the map through your Event Admin page. Some hosts prefer to release their map just before the event starts, and some like them to be "unhidden" halfway through the event. The choice is entirely yours. Please keep in mind the event account and ALL munzees will be auto-archived 7 days after the Go Live Time, if you don't archive them first.
Event Pins
The event account has 50 Event Pins, but additional other munzees may be purchased for that account. You can use as many of these as you wish. They have proximity restrictions of 100 ft (30.48 m) from each other, but not to other munzees if you have purchased the Proximity Restriction removal (see below). Even with the Proximity Restrictions removal, Event Pins still have to be 100 ft from each other. Please remember the Player Code of Conduct; the same rules apply to event accounts. Munzees are to be physically present at the location you specify on the map.
Proximity Restrictions
The event account has the same proximity restrictions as your own Munzee account (i.e. 50 ft from another player's munzee and 150 ft from each other) unless you purchase the Proximity Restriction Removal add-on. Even if you do purchase this, we ask that you please do not deploy or place more than one Munzee at each location. If you would like to purchase Proximity Restriction Removal for your event please reach out to events@munzee.com.
When placing your Event Pins, remember that placing them within a few feet of existing munzees can make it difficult for people to determine what they have already capped and what they are missing because the pins end up on top of each other.
You may want to avoid placing any of the Event Pins next to currently deployed munzees, as they might get captured before your event. It's recommended to consider hiding them a bit better than usual, unless you don't mind people capping them before your event starts. Even though the Event Pins are hidden from the map and won't be released until your event, pre-capping can still occur if people happen to find them by accident.
Be creative and hide your Event Pins around the area where you are hosting your event. Remember the point of the game is getting people out and enjoying the location where you are hosting your event. Please do not print them all out on sheets of paper; munzees are to be physically present at the location you specify on the map.
Event Account Munzees
Each event account is pre-loaded with 50 Event Pins. These munzees can only be added by MHQ. It is your responsibility to print and deploy the Event Pins. You can also use generic stickers for the Event Pins by clicking replace on the Event Pin and scanning a generic. Please remember to remove all physical munzees after the event, as they are temporary. The event account will be archived one week after your event. The host badges will be awarded at the same time and are a privilege of hosting. There is a maximum of 4 hosts per event.
Please Note: We ask that you do not capture the Event Munzees or the Event Indicator ahead of the event. They might not be coded in with any relevant artwork yet, so you may not get the badge/icon, and it stops your attendees being able to get any First to Captures (FTCs). Please do not use the event account for capturing munzees, as it's solely for deploying Event Munzees.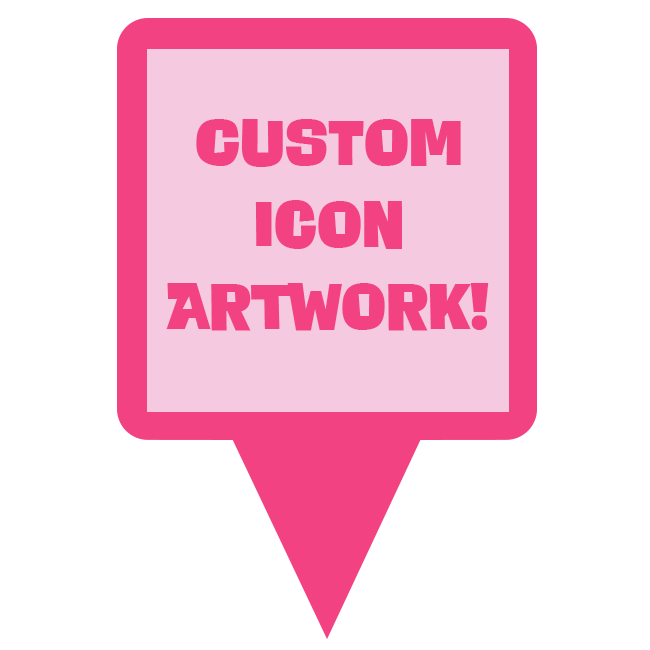 Badges & Special Icons
If you have chosen to add a Custom Event Badge and/or a Special Event Icon, we will need your thoughts and ideas on what you would like it to look like as soon as possible. While we can accept a picture as an idea, our graphic designers cannot copy it exactly. Artistic touches are determined by our graphic designers in accordance with what will work best for each event. Special icons will be attached to all Event Pins that are deployed on the event account. They will not be attached to any other type of munzees. The Event Badge will appear in your event account, and you need to deploy and print it.
Virtual Event Munzees
If you have purchased Virtuals for your event, your event account has been upgraded to Premium Membership, so you are able to use the sandbox for quick deploying. Please remember to not deploy them all in the same spot.
Event Trail
If you have purchased Event Trail Munzees, you need to deploy the Virtuals in the event account, and convert them using the Event Trail credits. You will either have 5 or 10 Virtuals and Event Trail credits, depending on which Trail you purchased. The stages need to be 500 ft (152.4 m) apart.
Physical Event Items
Event hosts can also purchase a number of physical items to be used for their event. These include a number of different items for giveaways, personal tags, stickers, and more. You can view these products on the Event Pricing List and then you may email events@munzee.com to purchase these add-ons. When you pay the invoice be sure to add in the shipping address you would like these items to be sent to.
Custom Event Items
Event hosts will also have the opportunity to order custom event items to make their event extra special and unique. These options include custom generic stickers, personal tags, and more. The artwork for these products is often based on Custom Icon or Badge artwork the design team has created for that particular event. Like Physical Event Items you will work with the Events Team to purchase these add-ons. When you pay the invoice be sure to add in the shipping address you would like these items to be sent to.
Event Giveaway Prizes
If you have purchased any giveaway prizes that have an asterix * next to them on the Munzee Event Package list, they will be added to the winner's account once you have let the Munzee Event Team know the winner's Munzee name after the event. Please remember these are prizes, not just access to cheaper Munzees for the hosts to award themselves.
Event Gift Certificates
If you have ordered gift certificates to give away as prizes during your event, they are able to be divided in any amount that you want them to be. Please indicate to the Munzee Event Team how you would like them broken down, and they will be emailed to you to be made available to give out at your event.
Eventzee Hunt
If you have purchased this fun addition to an event, you will be emailed all the administrative details separately. Please adhere closely to the instructions, as you will run this hunt yourself. You can also learn more about Eventzee at eventzeeapp.com.
Linked Geocaching Events
If there is a Geocaching event at the same time/location as your Munzee Event, you are welcome to apply for the Coexist Badge. The Munzee Event Team will need to be sent a link to the event page. This badge is a free addition to the event account to reward spreading the news about Munzee and growing the game. Note: the CoExist Badge will need deploying and printing.
Important Event Note
Remember that you have to deploy and share the badges, as well as the code for the Event Indicator Pin that has been deployed. This must be done manually, as it does not happen automatically.
PREVIOUS: How to Purchase an Event Package | NEXT: How To Use Eventzee With Your Munzee Event