PREVIOUS: Capture a Virtual Munzee | NEXT: Deploy A Virtual Munzee
There are several ways to earn points in munzee. You earn points for "capping" new game pieces, "deploying" game pieces, and "CapOn" points from when players capture your deployed game pieces. In order to earn deploy points, which will allow you to reap CapOn points, you will need to deploy a virtual munzee or place a physical game piece in locations where they can be found by other players. You will get points for deploying a munzee and for when other people find and scan that munzee. Point values vary by munzee type.
Below you can discover how to deploy a physical munzee from your phone.
How to Deploy a Physical Munzee (Phone)
First and foremost, you'll need a physical munzee sticker to deploy. You can purchase Generic Munzee stickers, known as Greenies, from the Freeze Tag Online Store, as well as many different types of Physical Munzees. You can also visit the Print Your Own Munzees page for information about how to print your own physical game pieces.
To deploy a Physical Munzee, simply go to the location where you wish to deploy the sticker. Open your map on your mobile device and scan the Physical Munzee. It's helpful to scan the sticker BEFORE you place it, in case there is already a munzee in that area. You will be able to deploy it as long as there are no other munzees in the area that interfere with the deploy radius. After you have scanned the munzee, you will be able to name it and add notes. Notes are very helpful for making your munzee easier for other players to find, which will earn you CapOn points. You will also have the chance to adjust your munzee's location on the map to make it as exact as possible. Make sure that your munzee is located in the correct place on the map, or else other players will not be able to easily find it.
Once you have adjusted the location, you will have the opportunity to convert your munzee if you have any available credits. If you are in need of credits, you can purchase them at the Freeze Tag Online Store. Note that the ability to convert your munzee is entirely optional, but once your Munzee has been converted, you will be unable to change it back or convert it to anything else. If you wish to convert your munzee, simply select the available credit you wish to convert it to and click "Yes" to confirm. Deploying a physical munzee is that easy!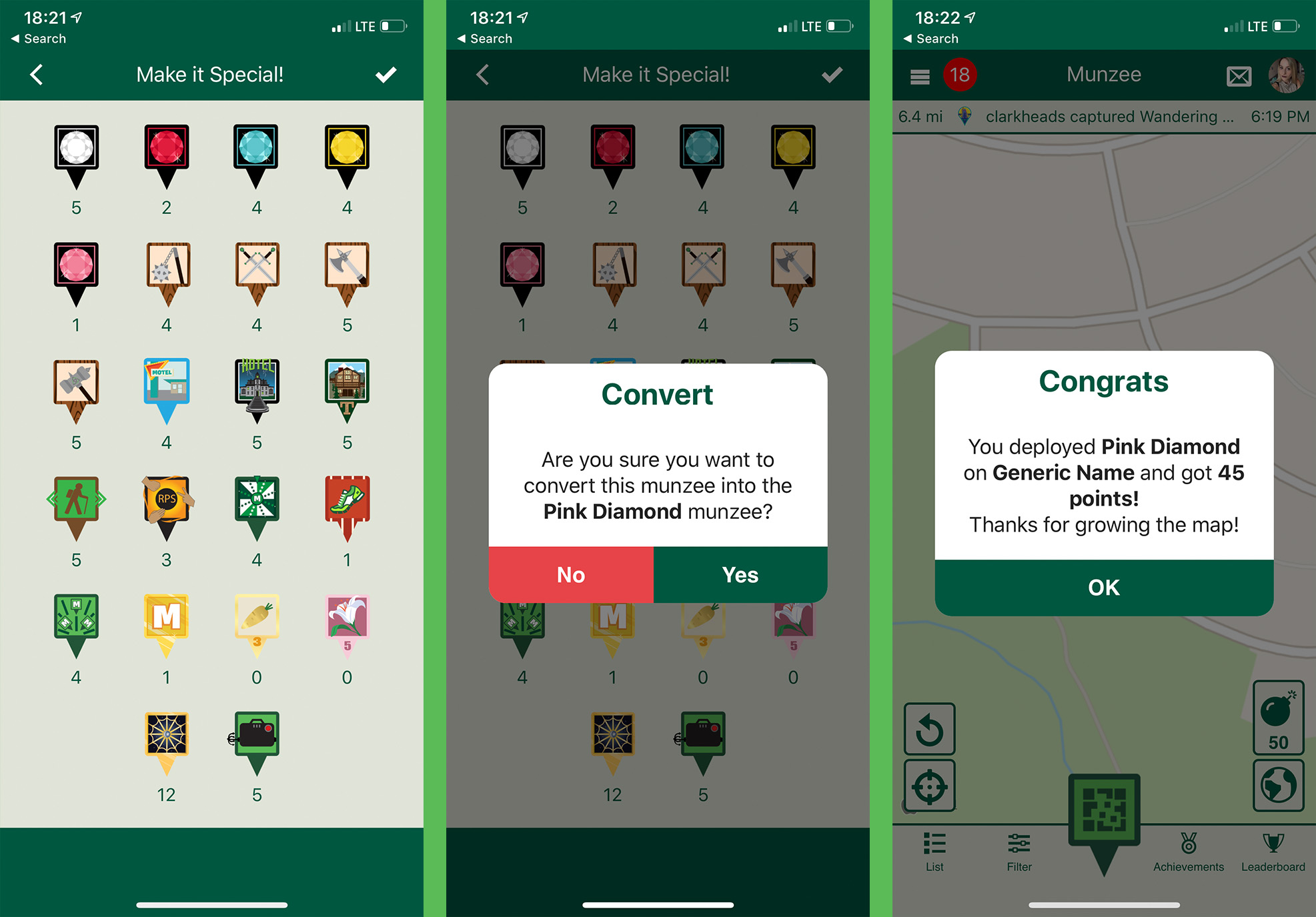 For assistance in deciding where to place your physical munzees, you can check out Example Hides.
Suggested Reading:
How to Convert a Munzee Using Credits
NEXT: Deploy A Virtual Munzee