Are you new to Munzee and don't know where to begin? Are you a seasoned player looking to get your hands on some rare deploys? The MunzPak subscriptions are perfect for loading all types of players up with a variety of munzees!
MunzPak is our monthly subscription service that delivers munzees directly to your door. Each of our three MunzPak options contain a variety of munzees, including some new items that you won't be able to find anywhere else. The two MunzPak options that you can subscribe to monthly include, Virtual MunzPak and Hybrid MunzPak.
To receive the MunzPak items included in the particular month's subscription, be sure to purchase your subscription before 23:59 MHQ time on the last day of the month. For example, if you wanted a March MunzPak, you would need to purchase it before 23:59 on March 31.
All subscriptions can be purchased from the Freeze Tag Online Store. Keep in mind that there will be a discount if you purchase the automatic renewal package. However, you are also free to make one-time purchases of any or all MunzPak subscriptions! Why limit yourself to one MunzPak when you can have all three? Delivery dates are flexible, and you can cancel or modify your subscription(s) as needed. Factors such as the type of MunzPak, frequency of delivery, and how often you order are all entirely up to you.
Virtual MunzPak
The Virtual MunzPak features virtual game pieces only. Sometimes there are brand new munzees which can only be purchased through the subscription service. Since all items in this subscription are virtual, they will be credited to your account upon purchase. That means no waiting for the mail!
The Virtual MunzPak is valued at approximately $40. You can pick up an automatic renewal subscription for $25 for a 37.5% savings.

Hybrid MunzPak
Interested in growing both the physical and virtual map? The Hybrid MunzPak is the best of both worlds! The Hybrid MunzPak contains both physical and virtual munzees, such as temporary destinations, virtual zodiacs, and more! The virtual items will be credited to your account upon purchase, while the physical credits will be delivered directly to your door each month.
The Hybrid MunzPak is valued at approximately $30. You can pick up an automatic renewal subscription for $20.01 for a 33.3% savings.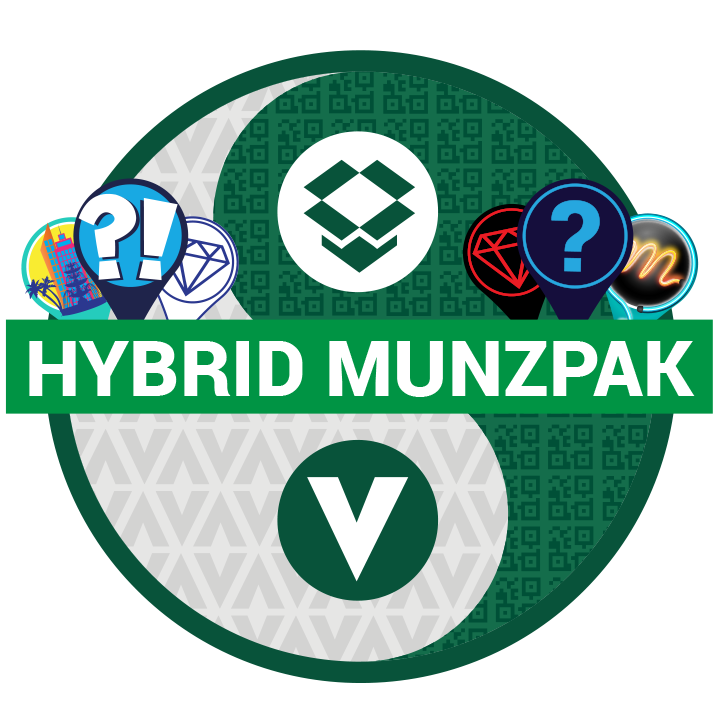 Munzee StarterPak
Alongside the MunzPaks, we also offer the Munzee StarterPak as well! This is your one stop shop for a quick dose of all things Munzee. Our brand new Munzee StarterPak contains ten items, valued at over $20 for the price of $10. You're limited to one StarterPak purchase a year though, so get yours today!
Each Munzee Starter Pak *currently contains the following:
1 Butterfly Evolution sticker

1 Diamond sticker

1 Scatter sticker

1 Mystery sticker

1 Urban Fit sticker

5 Generic Coded stickers

1 Aquamarine Credit
That means you can pick up 10 new munzees to deploy, including the beautiful Butterfly Evolution Munzee, and a Munzee decal sticker for only $10! PLUS, if you're a brand new player, keep an eye on your email for a special discount code that will allow you to get your StarterPak for FREE for a limited time! All StarterPak orders received throughout the week will ship within 1-2 business days after your purchase. To learn more about the StarterPak go HERE!
Badges
Have you never subscribed to MunzPak before? If this is your first month subscribing, then you're in extra luck! You'll have the chance to earn one-time badges for each type of Pak you purchase upon subscription. You can earn up to two brand new badges. All you have to do is sign up! You can also earn a StarterPak badge the first time you purchase it as well!
*StarterPak contents may be updated from time to time and contain different items